DecA Screen Frame
and Construction
DecA Screen frames' aluminum extrusions are heavier, stronger and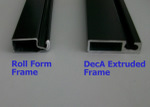 more rigid than roll form frames. They resist bending and bowing typical of the roll form frames. The DecA Screen frames hold the screen material tighter and flatter in the frame. The additional rigidity of the aluminum extrusion makes it possible to use thicker and heavier materials than roll form frames.
DecA Screen fram

e corners are mitered and reinforced internally with extruded aluminum corner keys,held in place with set screws. Roll form frames use plastic keys that discolor and become brittle with age.
The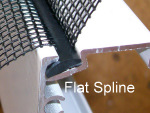 DecA Screen flat spline system holding the screen in the frame has proven to be stronger and longer lasting the the traditional round spine. The screen is physically wedged into the frame. Typically the screen material breaks or the aluminum frame fails before the spline releases the material from the frame.
Available Colors; bronze and white
Screen Material Options:
TEXTILENE Super Screen®
Super Screen® is made with extrusion-coated polyester core yarn. It is 18% heavier with a 300% higher Burst Strength than fiberglass screen. Superior UV tolerant properties of Super Screen® make it resistant to fading, flaking or brittleness from continued exposure to the sun. Super Screen® has superior tear and puncture resistance. Sharp claws (cat, dog or pest) cannot tear the screen, making it ideal for pet enclosures. Super Screen® is the only screen backed by a TEN YEAR limited warranty, three times longer than any fiberglass screen.
Color: Charcoal
TEXTILENE® 80 Solar Screen
TEXTILENE® 80 Solar Screen material is a woven PVC coated polyester yarn formulated to withstand solar abuse.. It is designed to reduce heat transfer through windows by eliminating many of the sun's harmful rays. Soar screen fabric not only reduces While blocking the sun's rays, Solar Screen will reduce energy cost and provide protection to your indoor furnishings. Flame resistant and fade resistant, Solar Screen is a durable alternative for insect screen.
Colors: Black, Gray, Brown, Desert Sand, White, Beige
Specialty or Customer Supplied Material: The DecA Screen aluminum extrusion with the flat spline groove can be used to mount and hold any flexible material. The only limitation is the flexibility of the fabric. Contact us and we can help you determine what fabric will work best for you.